BROODING IN POULTRYBrooding in poultry --This Is an act of taking care of newly hatched chicks by providing or supplying their essential needs for optimal performance ranging from required temperature, humidity, lighting, feeding, etc, till when they will be able to regulate their temperature.
TYPES OF BROODING IN POULTRY
Artificial brooding-- This Is a process whereby a poultry farmer takes care of the newly hatched chicks in the brooding pen by providing all the essential needs for proper growth of tissues without the help of the hen.




Natural brooding -- This Is a process whereby the broody hen provides the essential needs and heat for the newly hatched chicks from the warmth that the body produces.




AIM OF BROODING
During brooding one of the goals is to keep chicks within their comfort zone, which is where they don't use energy to gain or lose heat to maintain body temperature. ... Optimal brooding consists not only of maintaining proper temperature but also of using good methods in husbandry.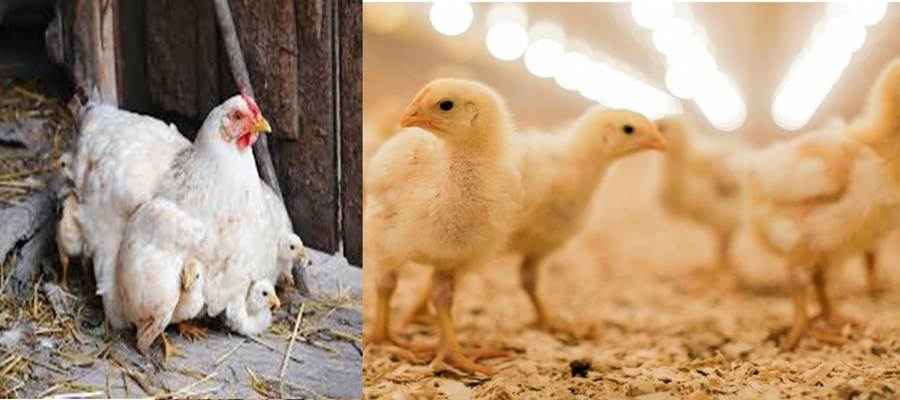 To help newly hatched chicks regulate their temperature for better growth.
Creating a better immune system.
To supply their essential needs for proper growth.
To prevent early mortality in flocks.
To help the newly hatched chicks to grow feathers.
For a good start and formulation of the chicks tissues.
EQUIPMENT/ITEMS NEEDED FOR PROPER BROODING IN POULTRY.
Thermometer.
This Is an instrument used for measuring the coldness and hotness (temperature) of a pen in order to regulate the warmth in the brooding pen.
Hygrometer.
This Is an instrument used for measuring of dampness (humidity) of the air in the brooding pen


Lighting equipment.
This is an instrument used to illuminate the brooding pen as to enable the newly hatched chicks feeds at all times.


Heat source.
This Is used to aid the newly hatched chicks by increasing the normal room temperature or the warmth of the brooding pen to the required warmth needed by the chicks e.g charcoal pot, kerosene stove, electric bulb, gas brooder, infrared bulb, etc.


Feeding equipment.
They are used in serving feeds to the chicks in the brooding pen.e.g chicks tray.


Drinking equipment.
It is used to serve water and medications to the chicks in brooding pen.e.g plastic drinker, nipple drinker, etc
Bedding material

It is used on the floor of the brooding pen to prevent contact with the floor.e.g wood shavings, rice husk, paper, etc.


Feed

Food Is a nutritious substance that animals feed on to grow and to live.


Water.

water Is an odorless and tasteless liquid at room temperature been taken by animals to sustain life.


Medications. -These are the basic drugs given to the newly hatched chicks when brooding to prevent and treat diseases or to help boost the immune system of chicks.
Brooding guard. - This Is a wooden material or hardboard that is used to restrict movement or divide chicks in the brooding pen.
HOW TO BROOD SUCCESSFULLY IN POULTRY.
(1) Ensure that the brooding pen has been washed and disinfected before the arrival of chicks.
(2) Keep all the medications needed for brooding handy before the arrival of chicks.
(3) Feed with high protein feed and clean cold water because the newly hatched chicks need good protein to grow tissues fast.
(4) Prepare all the brooding equipment as not to disappoint during brooding.
(5) Allow ventilation.
(6) Always regulate the temperature
(7) Always weigh your birds to determine if the chicks is gaining weight as required.
(8) Avoid smoke from the charcoal pot and another form of heating or lighting equipment
(9) Proper vaccination and medication.
(10) On arrival, the newly hatched chicks should be removed from the chicks cartons and placed in brooding pen immediately.
(11) Always wash and keep the equipment clean on a daily basis to avoid disease outbreak.
(12) Avoid overcrowded brooding pen, always maintain proper spacing method.
SIGNS THAT THE CHICKS ARE DOING WELL IN BROODING PEN
(1) When the chicks are randomly scattered in the brooding pen.
(2) When the chicks crop is filled with water and feed.
(3) When there is low mortality.
(4) When they are gaining the required weight
(5) When the chicks are healthy with no sign of sickness
(6) When the chicks feed all day it shows that the feeding and lighting are good.
(7) Uniformity.
SIGNS THAT THE CHICKS ARE NOT DOING WELL IN BROODING PEN
(1) When the chicks are not gaining the normal weight in line with their age.
(2) Huddling.
(3) Chirping in brooding pen.
(4) Running away from the heat source.
(5) Panting and high water intake.
(6) High mortality.
(7) Un uniformity in flocks.
(8) Early disease outbreak.
IMPORTANCE OF PROPER CHICKS BROODING
(1) Proper brooding of chicks is very essential because the early days of the chick are very vital and proper brooding of chicks will give you fast weight gain within a short time.
(2) It encourages uniformity in chicks.
(3) It gives the farmer room to monitor and provide all the essential needs of the chick.
(4) To boost the immune system against the outbreak of disease by proper administration of vaccine and medication.
DISEASES THAT CAN AFFECT CHICKS DURING THE EARLY STAGE OF THEIR life.
(1) Pullorum.
(2) E.Coli.
(3) Marek's disease.
(4) Newcastle disease.
(5) Coccidiosis.
(6) Infectious bursal disease etc.
CONCLUSION
Brooding is an important part of poultry farming, therefore proper brooding of chicks and providing all the essential needs to the chick's good start will help boost your production of fast-growing chicks thereby improving your return of investment (ROI) also contributing positively to the poultry industry.
NEED MORE HELP?.
I believe that this article has provided much-needed information and educating you greatly on the basis and importance of proper chicks brooding in poultry,but if you are unclear or don't understand any part in this article you can ask questions on the comment section and it will be replied shortly.